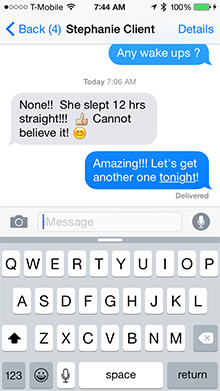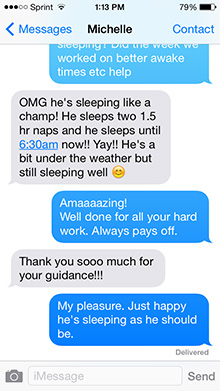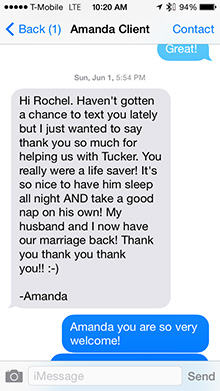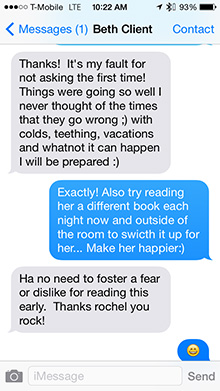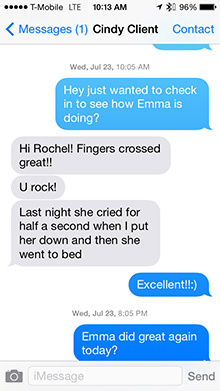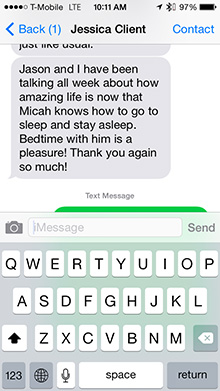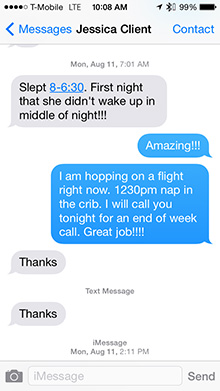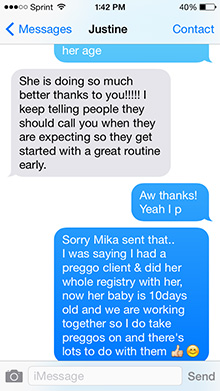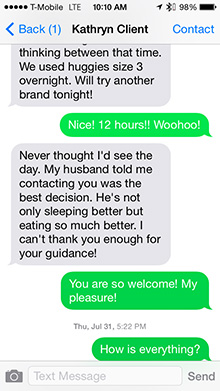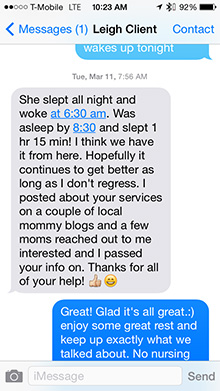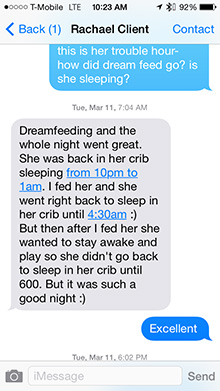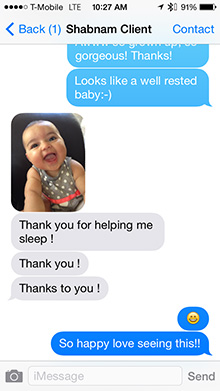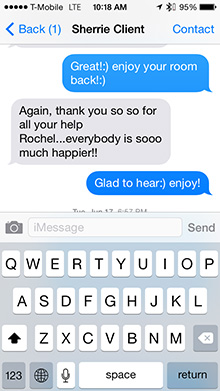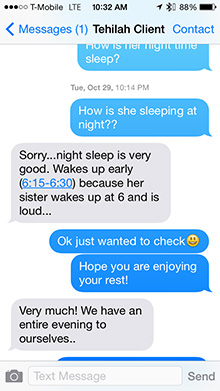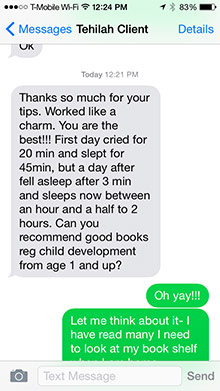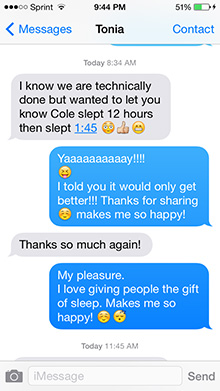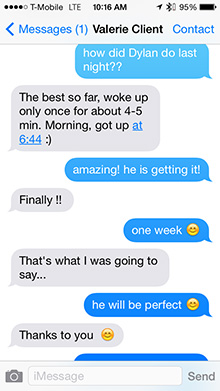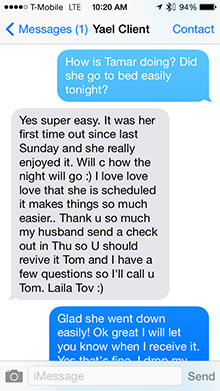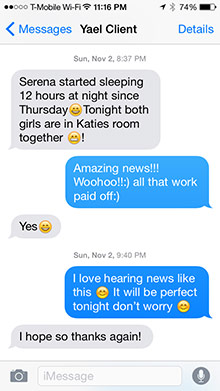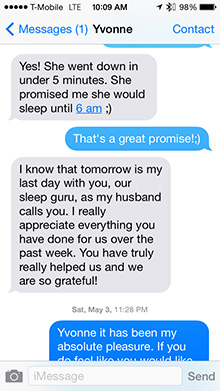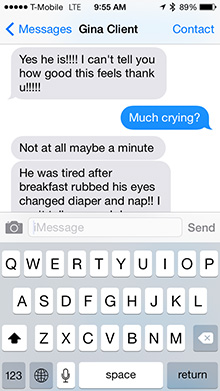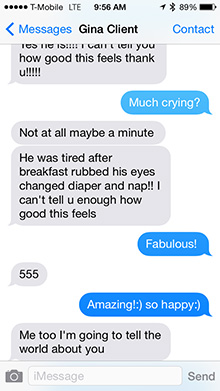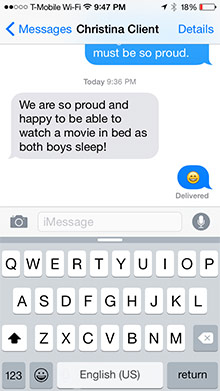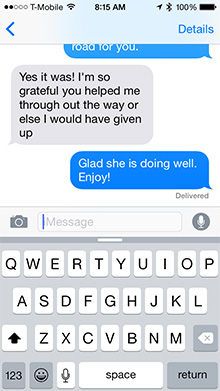 Text Message Testimonials & Facebook Reviews

Reviews

Beth McKenzie Chastant

Rochel was great! She took me by the hand and gave me the strength and encouragement to do something I had been dreading for months! My sweet little 10 month old at the end of the program is putting herself to sleep and night wakings are very infrequent (don't want to jinx myself ;) ) and even if she does wake she is learning to self soothe and return to sleep on her own. The process was wonderful and Rochel was there at every turn to help if things weren't going to plan or to answer any question I had! thanks so much for your help Rochel!! Just a few things about our situation so you know you can do it…she is exclusively breastfed and we were co sleeping in a bed in her room. night time wakings were every 2-3 hours and she usually woke every 20-30 mins after being put to bed and had to be nursed to sleep every time. She was also taking a pacifier and it is gone as well! One rough night now to teach the valuable lesson of how to sleep and get rid of that pacifier is so much better than waiting until she is two and doing it all over again. What a difference a week has made! thanks again!!

Lisa Ansell

Rochel is the ultimate baby whisperer that silences all competition! From feeding issues to sleep training, she is my go-to person for everything baby! The hundreds of books I have are all useless after one consult with Rochel. Highly recommend this vibrant, knowledgeable, highly personable and likable professional!

Erdolo Levy Eromo

The word WOW does not even start to describe what I have seen Rochal do. In my book, I consider her the baby whisperer!!

Lisa Marie Deaton Altman

We chose to work with Jayde after our 9 month old daughter began having major sleep regression. She was having trouble going to sleep and staying asleep without continuously nursing and took all her naps in our arms. I was very nervous because I had only done attachment parenting and did not want to CIO. But Jayde made it very easy and was so supportive. The process only had minimal crying and after 1 night our daughter was sleeping through the night for 11-12 hrs and taking naps in her bed for 1.5-2 hrs each. It was amazing. We are so grateful for all her help!

Michelle Kim

Jayde has been a Godsend to our family. We first started working with her when Winston was 8 weeks old and she helped him create great sleeping habits. When he turned 4 months, with Jayde's help again, he started sleeping through the night super fast because of his previous habits.
Jayde is extremely knowledgeable and she really has a passion for children. I feel so at ease when I communicate with her and she has the answers to every single question!! I truly admire her as a person and love that she has found her calling.
If I were reincarnated I'd want Jayde to be my mom. She's loving, caring, patient, yet still sets good boundaries where a child can confidently grow.
Winston is such a bubbly happy baby ever since we worked with Jayde and I am forever grateful!!
I HIGHLY recommend Jayde to anyone. I wish I could pass out her business cards at the maternity ward because it's seriously the best investment for your baby!!!

Michi Wohns Carlson

Jayde was absolutely incredible! I can't say enough positive things about our experience. It was honestly life changing! Jayde first helped us to establish a routine with my daughter and then guided us through the tricky maze of sleep training. Jayde was patient, kind, informative, and understanding while we worked through some of the "bad" habits we had established and replaced them with "good" habits. Cece now takes all of her naps in her crib, sleeps 12 hours through the night without any wakings, can self soothe, and doesn't require an army to put her down for naps or bedtime! Jayde not only helped Cece to discover her ability to sleep without Mommy and Daddy helping her, she also helped us to be able to sleep more than 3 hours at a time again and to find time for ourselves. Thank you Jayde and Make My Baby Smile!!

Amy Smith

I love how Rochel can be the Baby whispering from the other Side of the country!! Every tip has worked! So grateful for her!!

Bethany Johnson

Working with Jayde and her sleep training program was a wonderful decision for our family. Before the program, our 4-month old could only fall asleep being rocked and it was starting to no longer work. Her bedtimes were all over the place and she would only sleep 30 minutes at a time for naps. Now, she sleeps through the night and goes down consistently for bed between 6 - 7pm at night! She is taking longer naps during the day, is better rested and is a happier baby! We are hopeful that it will only get better from here and we are on a better path to healthy sleep habits because of Jayde's help. Her availability to answer questions, discuss scenarios and provide encouragement helped us to stick with the plan, even when it was tough. I would recommend her services in a heartbeat!

Jeremy Nelson

Hey Rochel, I just wanted to say a huge Thank You! for everything you taught us. Little Avia was sick last week and wasn't sleeping well, which you would expect for a little girl with a fever. Thankfully she was back to her usual happy self on the weekend, although she had learnt some bad sleeping habits over the previous week and was waking us up through the night.
As a dad who needs to power through the work day, her new found sleep pattern was killing me. We remembered your sleep training and of course it worked like magic! Our little girl is sleeping again, and so am I. No more passing out at my desk at 10 in the morning.

Beth McKenzie Chastant

Rochel was great! She took me by the hand and gave me the strength and encouragement to do something I had been dreading for months! My sweet little 10 month old at the end of the program is putting herself to sleep and night wakings are very infrequent (don't want to jinx myself ;) ) and even if she does wake she is learning to self soothe and return to sleep on her own. The process was wonderful and Rochel was there at every turn to help if things weren't going to plan or to answer any question I had! thanks so much for your help Rochel!! Just a few things about our situation so you know you can do it…she is exclusively breastfed and we were co sleeping in a bed in her room. night time wakings were every 2-3 hours and she usually woke every 20-30 mins after being put to bed and had to be nursed to sleep every time. She was also taking a pacifier and it is gone as well! One rough night now to teach the valuable lesson of how to sleep and get rid of that pacifier is so much better than waiting until she is two and doing it all over again. What a difference a week has made! thanks again!!

Thomas Shira Brandenburg

After 9 months of letting our son shape his naps and bedtime, we opted to bring in outside help in an effort to ALL sleep better. Jayde is a warm, caring professional who clearly loves what she does. She gracefully taught us about creating a calm and structured space, both mentally and physically, for our son and for ourselves. She walked us through skills, behaviors, logistics and the "what ifs" with unconditional support and empathy.
Our son is now 16 mo and continues to love his crib, understanding that 'sleep is sleep.' He is a happy, thriving boy with a routine that works for all of us. We attribute a huge part of this to what we learned from Jayde; without her, we would still be struggling with this process, she truly has impacted our lives!

Kathryn Parejo Cormier

I can't say enough about Rochel!!! She made such a difficult transition feel like a breeze. She was always available for my questions or when I needed her, provided me with all the tools to make my baby more independent, and gave me priceless tips for the future. My son went from 2 night feedings and countless waking in the night and morning to sleeping through the night within a week. Best decision my husband and I could have made was to contact her!

Yvonne Chang Berrigan

I am a skeptic when it comes to this stuff, but my husband and I were desperate. Our 6 month old baby girl would NOT go to sleep at night! For those of you who think this only works for certain babies, I can tell you that my baby had; bad habits, was rocked to sleep, developed a cold in the middle of sleep training, got her 6 month shots in the middle of sleep training ( i know, we picked a bad week to start, but as I said before, desperate). As a result, she didn't sleep train as quickly as the other babies I've read on this website. But, the most important thing was that Rochel was there for us. Every day, for HOURS. Guided us through all of these roadblocks when our instinct was to go back to bad habits. Now, its been 10 days since we started. Our daughter goes to down for bed with no drama, and Rochel even helped us identify something that our day care was doing that was messing with her sleep habits! I seriously cannot recommend Rochel enough. As two working parents who became sleep zombies, you helped bring us back to life. Thank you!!!

Justine Sklar Yerushalmi

Rochel is an amazing sleep trainer!!!!!! My 8 month old son was waking numerous times a night. Now, he is sleeping in his room and crib all night long. Rochel gave me the constant support to sleep train him. She had personalized suggestions that helped our specific situation. I would definitely recommend her to anyone whose baby isn't sleeping through the night. Rochel genuinely cares about mom and baby and is extremely helpful, tireless and positive. Even with my numerous questions she got back to me right away and she was there for me in the sleep training process. She set an exact plan for how to put baby to bed and how to respond when he wakes. The results are outstanding!! Mom, dad and baby are finally getting a good night's rest!! Amen!! Thank you Rochel !!

Brooke Keeley Savadel

I asked Rochel for help a little over a week ago and my LO went from waking up 3-6 times a nite screaming at the top of her lungs and waking up screaming from her naps to sleeping thru the nite no problem now. Last nite my LO slept 11 1/2 hours! And she doesn't cry for more than 1-2 minutes (if at all) when I out her down. Our lives are so much happier! Thank you Rochel!!

Sherrie Jackson Mondillo

Unbelievable! My husband and I thought we would be getting up every 2 hours with our daughter until she went off to college!! After 8 months of sleepless nights I finally broke down and called Rochel...and sooo glad I did! Just after a couple of nights of her help we not only had my daughter sleeping through the night (10hrs straight!) but she is now out of our room and sharing a room with her big sis. Thank you so so much Rochel!!!

Monica Saidian

I was amazed at how well Rochels' tips and technique worked on David…. wasn't sure if there was anything that would put the baby to sleep. Loved how confident Rochel was with her strategy. Thanks for all your help and comfort, really helped our family get through the restless nights.

Isa Bnk

By the 3rd day, Ben slept for 12 hours! Initially we were not inclined to sleep training and were hesitant, perhaps ignorant, but after many months of sleepless nights that started taking a toll in our daily functioning, a friend saw our tired faces and recommended Rochel. We called her and she was hands on. She was firm but nurturing and very knowledgeable and precise. We followed her instructions and she made us put Ben's nursery together in under 1 day. It was much less stressful than we thought and we are happy because Ben is doing well in all aspects, he's rested, happy, eating better, feeling secure and overall he's a happy camper. Thank You Rochel, you are amazing!

Isa Bnk

At 16 months, my baby was up every hour. He had never slept a full night since he was born. My husband and I were completely exhausted. I called Rochel out of desperation and I am so glad I did. After just 2 nights, our sweet boy was sleeping 11-12 hours a night AND taking 2 hour naps! No more rocking, nighttime feedings. He goes to sleep on his own! We are all 3 well rested and MUCH happier now! I can't say thank you enough Rochel!

Poneh Ghasri

Rochelle is extremely helpful and knowledgeable. She makes a very stressful process tolerable and puts your mind at ease. She's also always available and prompt in responding to calls and text messages. She always finds the time to check on you and the baby multiple times. Thank you!

Ziba Weingarten

Rochel is amazing!! My baby of 13 months would only sleep through the night in my arms. As you can imagine i was unable to move or sleep. Rochel set up a plan for me where within a week thank G-d my baby is sleeping in her own roon in her crib. I have to add that rochel taught me a system where there was hardly any crying involved. I am so grateful to rochel for her time, incredible wisdom and techniques.

Tammy Mescobi

Rochel helped me sleep train my 2 year old who originally wouldn't go down without milk and would have frequent night wakings, now he is completely weaned off milk in the crib and is sleeping a lot better. I truly couldn't have done it without her week of support and follow up. Thank you Rochel!!!

Mollie Saucier Daniels

I can't say enough great things about our experience with Rochel :) We put off reaching out for help until we were all miserable out of fear of hearing our baby cry and I wish we had done this sooner because we are all happier than ever! I didn't realize how badly the effects of not sleeping were for Kate until she started sleeping and I watched her behavior change overnight...literally! After 1 night, she started sleeping through the night and naps get easier everyday. I don't think we could have done any of this without Rochel's help. She has so much to share that will empower you to help your baby and your family. Thank you so much Rochel!

Rachel Snyder Kleinman

A million thanks Rochel Ferman! My baby has slept through the night since she was 7 weeks old, and I have you to thank.
Anyone who works with Rochel will feel 100% taken care of, respected, and infused with new motherhood knowledge and tools to last a lifetime. Before working with Rochel, my daughter would wake up every 2-3 hours crying and I was a wreck from lack of sleep! I began to work with Rochel early on to establish good habits and a solid routine for my little girl, Fay. Rochel taught me how to get Fay to sleep for longer stretches in just a matter of days. My daughter now sleeps 11-12 hours at night.
Rochel made my life as a new mother run much more smoothly! I am now the envy of friends who struggle with their babies. Her passion, love, and knowledge is undeniable- but her attention to detail, organization, reliability, and prompt communication makes her a real pleasure to work with. I live in New York and she lives in Los Angeles. Distance was never an issue; she is always available and helpful. Throw out the books and just ask Rochel (at Make My Baby Smile). Worked for me (and my baby)!

Melissa Bilboul-Ironi

Rochel not only has a wealth of knowledge on all things mommy and baby, she knows how to practically apply this information to soothe mommies and babies on a wide array of issues and concerns. Her help has always put me ten steps ahead of the game and has boosted my confidence. It's easy, practical and tailored to the mommy, baby and situation. Rochel is phenominal at what she does and most of all, she genuinely loves it. She helped me sleep train my two sons and each time I wish I did it even sooner! I thought sleep training my second would be easy: boy was I wrong! He has bad acid reflux and I let him wake up amost 5x a night until I was soo fatigued I simply could not keep up. I turned to Rochel after getting the pediatrician and GI's blessing, and by the second night he slept like a baby! Even my husband who was initially not on-board for dear of "scarring" our child, turned to me and said...told you so!:))

Syndi Shefer

Thank you Rochel for being so patient and supportive through this process! Being a new mom is super stressful and filled with uncertainties and Rochel was very understanding and helpful through it all. She is very good at what she does and is extremely knowledgeable about all things baby. I would definitely recommend her to other new moms who need some help with their little ones!

Anna Beth Farahdel

I recently trained my 1 and 2 year old with the help of Rochel. In a matter of 3 days I had my son falling asleep on his own in his crib. She checked in on me several times to make sure things were going smoothly. She also advised me on how to stop the bottle feedings. They have both transitioned to zippy cups for all their liquid. This in turn has created better eating habits and no more milk in the middle of the night. Her schedule was right on and helped create structure for my boys. Thank you so much for all that you have done for my family.

Jasmin Hai

Just a quick review to thank Rochel for all her help getting Arielle to be a happier baby! I reached out to her when Ari was about 4 weeks old. She had a lot of gas, a persistent diaper rash and was keeping me up (not to mention my husband) all night long trying to settle down. Rochel came over and gave us some tips for how to make her sleep environment more hospitable. She also gave many suggestions for how to relieve her gas and rash. Over the course of the next few weeks, she was always available to check in with me and knew more about the baby than anyone besides our household! Ari now has learned to self soothe so much better and through trial and error with Rochel's help, has become so much happier. Thanks again for all the help and more sleep and order for the whole household!

Michelle D.

My son is trying to kill me slowly by way of sleep deprivation. He has been waking at the unreasonable hour of 4A pretty consistently for the past several months ready to play with his planes, trains, and automobiles. This makes for a very cranky mommy. Rochel took the time to call me and chat about my son and his early rising. She gave me some helpful tips and even emailed a few weeks after our phone call to see how things were going. The problem isn't gone yet, but I have faith that with consistency and Rochel's tips, we'll get there!

Nicole Iglicki Gold

I cannot say enough great things about Rochel. My 16 month son is a very stubborn little boy and after working tirelessly with many sleep consultants Rochel is the only one that really cared and made a difference. Her calming nature and positive advice and suggestions were invaluable. She really individualized my son's situation and recommended things no one else suggested. Rochel's constant 'check ins' via text were also amazing.I would not look any further for a sleep consultant. This is your lady. I will be sure to make many referrals and contact her in the future. Thank you again.

Sarah Brenenson

Rochel is so caring, patient, and knowledgable in all areas of raising children. She has so much to offer and does so in a kind and loving matter. She takes each individual family and makes a personalized plan that takes into consideration all their needs. She shows so much support and encouragement throughout the whole process, and really helps guide you through it step by step. I highly recommend her. You won't be disappointed.

Dovid Jaeger

Rochel Ferman has been a godsend. Before her, we were desperate and tired parents. We got up at least 3 times a night, and again at 3-5 am, for over 8 months. My wife tried everything, to no avail. Rochel gave us a comprehensive solution along with constant ongoing support for over 2 months. It was the best thing we did. He now sleeps by himself, and is much more alert during the day. We are too. I now have time and energy for my wife. If your are struggling with how to empathetically but firmly help your child sleep,I can't recommend Rochel enough. Thanks so much for helping us (I know we weren't easy ;) )

Audie Ricketson Scipper

At 7 weeks old, I was trying to transition my baby to her crib. I was following a friend's advice for a few days that began to have a negative impact on me. As nap time approached, I began to dread it. I HATED naptime. Then, I found Rochel. I was able to become a loving, comforting mom again. Nap time became easy and enjoyable. She provided me with invaluable knowledge and tips that made me and my baby smile again :) A sincere thank you to you, Rochel!!

Honey Yaghoubi

Rochel was extremely helpful in helping me get my 9 month old daughter to sleep through the night. She came over and gave me a step by step plan and daily schedule and guided me through the sleep training process. During the first week, she checked in with me every day and was very responsive to my texts and questions. I would highly recommend her services if you are ready to sleep train your child!

Hollan Deshotel Fortier

My daughter has always slept all night in her own bed and was able to put herself to sleep without rocking. At 2 years old when she climbed out of her crib my husband and I immediately put her into a toddler bed. That was a mistake. At that point her separation anxiety peaked and she ended up in our bed. Since she was sleeping with my husband and I she expected us to all go to bed at the same time. This left no time for me to do things I needed to around the house. Non of us slept well. She kicked us and she was waking up once or twice every night. I finally called Rochel and after the first night my baby girl started going to bed in her own bed without any crying. We have developed a schedule and a bedtime. I am so grateful for Rochel and for all of her support. I could have never done this without her support.
My Baby And I Need HELP Now!
Uh oh! Baby is not happy and mommy is ready to pull her hair out!! Have no fear, we are here to help.

If you need urgent assistance in any baby matter, be it sleep, routine, new baby on the way, integrating a baby into a pet home, or anything else, we have you covered. Reach out, let's schedule a consultation yesterday and let us change the uh oh in to a simple ahhhh.